Howdy and welcome to another rendition of What I Stuffed My Face With Lately!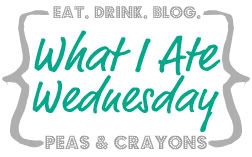 It's finally sunny summer here in the Canadian East and that means the arrival of fresh, local produce. I've been loving starting my day with a green juice made with fresh produce from the farmers market.
Around mid morning I love to fill my belly with some chia buckwheat 'cereal'. I have been kicking myself for not trying chia pudding out earlier. It is thick and creamy and so filling! I  make it with my homemade sesame seed milk (using my Cheater's Nut Milk recipe with tahini instead of almond butter) and top it with some soaked buckwheat groats, banana, cacao nibs, and hemp seeds.
Perfect summer breakfast.
Because really who wants to eat hot oatmeal when its 40 degrees outside? Not me!
Keeping with the cooling theme, I've really been craving crisp salads for lunch. Lots of fresh organic greens and veggies, with some lentils and sweet potato fries on the side. I can't really ask for more.
For dinner we have been taking full advantage of the grilling weather and using the BBQ almost exclusively. Besides the usual ribs n' burgers, we love to grill fish.
Wild caught haddock, broccoli, red quinoa, lemon tahini dressing
I'm really looking forward to harvesting our garden in a few months. This year we have a few varieties of tomatoes, peppers, and raspberries.
But the real highlight will be the plum and nectarine bounty (remember last year?).
Between summer school, farmer's markets, work, and sunshine, this summer will be one to remember!
Question: What do you love about summer?