Happy Hump Day friends!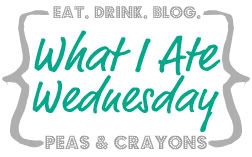 Does anyone else feel like time is going by wicked fast? We are almost 1/3 of the way through the year. I have an exam (at 7pm….) tomorrow and then I am officially done my first year of university! I can't say I enjoyed it to be brutally honest, but I did learn a lot and am glad to have had the experience. I won't be going back next year but more on that in another post.
Let's get to the food!
Breakfast
I actually had a bowl of sliced apples before this but I didn't take a picture…..Anyway bacon, egg, sauerkraut, and sauteed veggies.
 Morning snack
Crunchy peanut butter = love
Lunch
Grass-fed oxtail stew with cauli-rice.
This meal was ah-mazing. I used my grandma's tried and true recipe for the oxtail which turned out finger-lickin' good.
Post-WOD smoothie made with banana, hemp protein powder, cinnamon, vanilla and water.
I'm surprisingly really liking hemp protein in smoothies. I'd read several reviews that it tasted like grass clippings but I don't find it tastes like anything at all.
Dinner
Red quinoa salad with zucchini, greens, and an avocado-lime dressing.
We shall call this the "kitchen sink" salad. Leftover quinoa, the odd ends of spiralized zucchini, the last of my mixed greens, and an avocado threatening to go brown if I left it one second more.
And of course no day is complete without chocolate…
I actually prefer the taste of 90% dark chocolate but the store was out. Sacrifices, sacrifices ;)
Have a great week friends!